How to Start a Wyoming LLC for an Amazon FBA
It's no secret that global giant Amazon dominates the online shopping marketplace. If you're an entrepreneur looking to get your own slice of the massive Amazon pie, use our comprehensive, step-by-step guide.
When and if you start an Amazon business is completely up to you. We've got no skin in the game. We aren't an affiliate, and don't get so much as a high five if you sign up as a seller. Starting any kind of business is a deeply personal decision, so our only goal is to provide steps and facts to help as you weigh your options and build a plan for a successful business launch.
What is an FBA?
A "Fulfilled by Amazon" (FBA) business is exactly what the long version name implies. It's a small business whose orders are fulfilled by Amazon and offered through the Amazon Marketplace.
Unlike a FBM (Fulfilled by Merchant) Amazon seller, FBA sellers ship their inventory to Amazon to store, and do their portion of the work before sales are made. When buyers purchase from a FBA business/seller, Amazon collects payment, tax, and any shipping fees, and ships the order. With inventory on site, Amazon can offer inexpensive, fast shipping that helps them stand out from other online marketplaces.
Amazon FBA is like having your own workshop of Amazon elves that handle all the boring stuff for you. When you sell products on Amazon, they pack it, ship it, and even handle customer service. You get to focus on sourcing cool merchandise to sell and market, while someone else takes care of the behind-the scenes work and make your life easier.
Other Amazon seller options include:
FBM – Sellers personally store and ship inventory or utilize drop shipping, and also handle their own returns and customer service. The first steps towards registering as a FBM seller are the same as an FBA seller. Use Amazon's Fulfillment Fee chart to compare Fulfillment by Merchant to Fulfillment by Amazon cost and pick the right option for your business.
Amazon Affiliate Program – Seller does not hold inventory or sell their own products. Approved sellers/influencers use an Amazon storefront to promote other sellers' items for commission.
Print-on-Demand – Sellers/designers don't hold or buy inventory and instead upload their designs & content on their chosen product to be printed and shipped through Amazon as orders are placed.
Why start an FBA?
According to Webretailer.com, Amazon receives over 2 billion site visits a month in the US alone, which is almost double that of the next top two marketplace sites, Walmart.com and eBay, combined. Selling on Amazon FBA gives small businesses access to the biggest buying and selling platform in the world with professional storage, shipping and customer service included.
The real questions are how do you get started and is it worth it.
Here's a snapshot of the basic numbers as of Q2 2023:
Although other options exist for Amazon sellers, Amazon FBA is the most commonly used selling option. (Source: Amazon)
More than 3 out of 4 Amazon sellers make over $1000/month, and about 2 out of 5 Amazon sellers make over $10,000/month. (Source: JungleScout)
It's possible to start an Amazon business with as little as $500, but many pros recommend a startup investment of $3500-$6000 (covering branding, inspections, inventory, etc.). (Source: SaleZone)
What is an LLC?
A Limited Liability Company (LLC) is a business entity type registered at the state level that offers similar asset protection as a corporation, but with more flexibility, fewer restrictions, and simpler, pass-through taxation.
What is the benefit of an LLC for an FBA?
First off, you do not have to have an LLC to start an FBA. You can save yourself the extra step and the filing fees by operating as a sole proprietorship.
So then why bother? Protection.
A limited liability company separates the individual business owner from their company. As a sole proprietorship, there is no distinction between the individual and their business so all of the individual's assets could be at stake in a lawsuit, where as with an LLC, the liability is limited to the business's assets. That could come in handy when selling to strangers on the internet.
When you register an LLC in a state like Wyoming, no ownership information is required publicly, so you are also able to better protect your personal identity and contact details.
An LLC also provides more professionalism and consistency to your business and brand. While many sellers stick to one marketplace, if you grow to offer your products through other avenues you may need an LLC to sell on other platforms. Using an LLC can keep your business cohesive and generally offers a more professional appearance, especially as you establish your presence and claim your place in a massive market.
Is WY the right state for your Amazon LLC?
Maybe. It's easy to get into the weeds with this, so we'll keep it as simple as possible and based on the three possible scenarios.
You are a Wyoming resident and/or actively are doing business in Wyoming. Yes, a thousand times yes. You're a lucky one and get to easily start your business with privacy and low taxes in one of the most popular US jurisdictions for registering an LLC.
You are an international, non-US citizen starting an online business to sell within the US. Probably. You'll need to register somewhere, and since you (probably) aren't physically doing business in any state, you can pick based on your company's needs. Wyoming has been one of the top two states for LLC formation among foreign citizens for decades because it's relatively simple, inexpensive, business-friendly, and quite private to do so.
You are a US citizen who works and resides in a state other than Wyoming. Maybe. Generally speaking, you must register your LLC in the state in which you are doing business. Even if all the buying and selling is done online, you are taking care of your other business operations from somewhere, and that's most likely where you will need to register your LLC. If privacy or other Wyoming perks are important to you, you may find it beneficial to form a Wyoming LLC and then also register that LLC in the state you're doing business in, or form a Wyoming LLC to own/manage a second LLC that you register in your home state.
Wyoming LLCs are popular for many reasons. We're proud our state is so business-friendly and makes it easy to start your own company almost instantly online. After all, being quick, easy, flexible, and inexpensive are really the same things that make buying on Amazon so popular too. However, just because a lot of people are doing it doesn't mean it's right for everyone.
How to Start an Amazon FBA with an LLC
Whether you've committed to starting your FBA or are still deciding, it's important to know what to expect for the actual registration of your LLC and the FBA.
Before setting up your Amazon FBA Seller Account
Form Your Wyoming LLC

If you have decided to start a Wyoming LLC (or any LLC for that matter) for your FBA, register the LLC before you sign up with Amazon. You can sign up as an individual Amazon seller and then update it later if you'd like, but in Wyoming, online LLC formation is fast and and can be approved and official the same day you apply. You'll save time later by setting up things correctly from the beginning so you don't have to back track.
If privacy is valuable to you, hire a third party (ya know, like Wyoming Registered Agent Services) to handle the filing and keep your personal info off state records.
Forming your LLC first also ensures the name you operate under is available to register with the state.
Obtain an EIN

An Employer Identification Number ("EIN") is like the social security number for your LLC.
Whether or not you sell on Amazon as an individual or with an LLC, Amazon will require a tax identification number for tax purposes.
An EIN will also be required to start a business bank account.
You can hire a third party to apply for your EIN, or apply directly with the IRS online (US citizen only) or by paper.
Start a Business Bank Account

Keep your personal and business finances separate for easier bookkeeping later, and in order to maintain the legal separation required for liability protection under your LLC.
Amazon will require a card on file for payments to and from your store so again, set up everything accurately from the start
Check out our full page on how to open a Wyoming bank account if you formed a Wyoming LLC
Source and purchase your first batch of inventory

While product research should be a part of your initial business plan before taking action, waiting to buy inventory until after you have your LLC and bank account set up will keep your financials and expenses organized.
Some sellers may opt to invest in their inventory after their seller account is approved and verified, which is fine, but you will need inventory on hand with usable bar codes in order to create product listings.
Not sure where to start? You can research the most profitable sale items, but here are a few categories among the most popular and profitable:

Jewelry. Costume baubles of all sorts are cheap and can be resold cheaply still with a high profit margin.
Baby items. Expectant parents have fewer and fewer brick and mortar baby-focused stores to choose from leaving Amazon shopping a must. On top of that, abundant Amazon baby registries direct buyers to desirable baby products at all price points.
Home wares. From trending kitchen gadgets to decor, buyers are always looking for new items to freshen up their space. Amazon is a major player for wedding registries full of housewares as well.
Books. Tried and true, the OG of Amazon, real print and paper books can be bought cheaply in bulk for resale at a high profit margin.
Set up your FBA Seller Account
Create an Amazon Seller Central account

Go to sellercentral.amazon.com and sign up for a seller account
You can log in with your existing Prime/buying account credentials
Provide business information

Enter your business name, address, and contact details
Be prepared to provide the following:

Bank account number and bank routing number
Chargeable credit card
Government issued national ID
Tax information
Phone number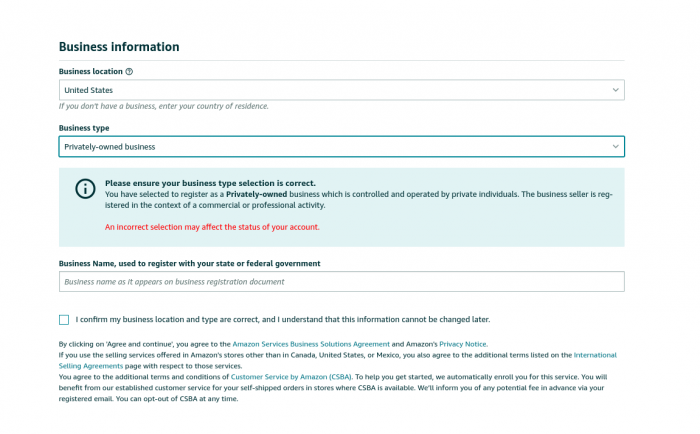 Choose a selling plan

Select either individual or professional
You should select based on anticipated sales, not whether you operate as a sole proprietorship or LLC
The individual selling plan will charge a $.99 per item selling fee, while the professional plan charges a monthly $39.99 flat rate selling fee whether you sell 1 item or 1000 items.
You can switch between plans as needed later
Selling Plan fees are only one of the fee types Amazon will charge. Be sure to fully review all the fees your sales will be subject to so you can price your items accordingly.
Create product listings

Provide detailed information about the products you want to sell. Include titles, descriptions, images, pricing, and other relevant details.
Create listings one by one or use bulk listing tools.
Estimate your fee per unit sold as part of your price process
FBA Sellers must provide UPC (general merchandise) or ISBN (books) barcodes as part of the item set-up procedure.
Amazon Seller Account verification
Before the account registration process is complete, Amazon will generally require some method of account verification. Amazon may also require verification for some sellers after the initial registration and even after successful sales. Failure to verify within Amazon's time frame may result in rejection of the account registration, or profit withholding for established accounts.
Mailed card verification

Through the standard account verification process, Amazon mails a card with a code to the business address the seller provided in account set up.
Sellers then input the code in Seller Central to verify address.
Video call verification

Increasingly popular method of seller verification.
If eligible for the identity verification video call, Amazon will request to set up a call after you have uploaded your documents during registration.

Prepare for the call like any virtual business meeting: good lighting, strong connection, no distractions, etc.
Amazon caller will ask you to hold up required documents.
Verification video calls generally last about 20 minutes.
Verification results are generally emailed to seller within 2-3 business days.

Verification video calls are not exclusive to new Amazon sellers and may be required by Amazon following deactivation or periods of inactivity, suspected fraud, changes in key account information (like switching bank accounts), or potential account deactivation.
Maintaining your account and sales
Prepare inventory for shipment

Once your products are listed, you need to prepare them for shipment to Amazon's fulfillment centers.
Follow Amazon's guidelines for packaging and labeling your products correctly.
Create a shipping plan

In Seller Central, go to the "Inventory" tab and select "Manage FBA Shipments."
Create a new shipping plan, specify the quantity and condition of the products, and generate the required shipping labels.
Ship your products to Amazon

Pack your inventory according to Amazon's guidelines and ship it to the designated fulfillment center mentioned in your shipping plan.
You can choose to use Amazon's partnered carriers or arrange your own shipping.
Monitor inventory and sales

Once your products arrive at the fulfillment center, Amazon takes care of storing, picking, packing, and shipping your orders.
You can track your inventory levels and monitor sales through your Seller Central account.
Provide customer support

Amazon handles customer inquiries and manages returns and refunds for FBA sellers.
Sellers should still be responsive to any customer messages or issues to maintain a positive seller reputation.
How much does it cost to start a Wyoming LLC & FBA?
At the beginning of this page, we said you could start an FBA business with a Wyoming LLC for as little as $500. That is a ballpark figure based on basic fees and low cost inventory. Here's a table of the kinds of fees you'll pay:
| | | |
| --- | --- | --- |
| Fee Type | Explanation | Estimated Cost |
| Wyoming LLC | State fee + any 3rd party service fees | $100+ |
| EIN | Free with IRS, but fees apply when you hire a 3rd party | $0+ |
| Amazon Selling Plan Fees | Required base seller's fee | $.99/item – $39.99/month |
| Amazon Referral Fees | Varying percentage of sale price based on merchandise type | Percentages range from 8%-45%, minimum of $0.30 fee per item |
| Amazon FBA Fulfillment Fees | Fee to cover storage, packing, shipping, returns & customer service for FBA | Standard (up to 20lbs) ranges from appx. $3-$8/per item* |
| Additional Amazon Fees | Special circumstances may be subject to additional fees such as aged inventory, or book rentals | Varies |
| Optional Amazon Fees | Completely optional Amazon seller services including cost-per-click advertising and premium account services | Varies |
| Inventory Cost | Actual wholesale cost of your products. | Varies |
| UPC Barcodes | Required Universal Product Code for each product you sell. Must purchase from appropriate third party | Barcodes start around $30/code with bulk rates available |
| Packaging/Labeling | Products must be labeled with assigned barcode, but may have other packaging and labeling | Varies |

*Additional fees for special/oversized products. Lower fees for qualified "small and light" products.
Frequently Asked Questions
How does Amazon pay FBA sellers?
Generally, using the financial information on your seller account, Amazon deducts its fees first. Sellers are typically paid every 2 weeks.
Can I sell original products through Amazon FBA?
Yes! While we only briefly mentioned purchasing your Amazon inventory, that's not the only way to acquire inventory for an Amazon FBA or FBM. Qualified artisans can sell their handcrafted products through Amazon Handmade. Start by setting up your Amazon seller account, and then apply to join the makers-only subset of Amazon. Currently, Amazon waives the $39.99 monthly professional sellers fee.
Could Amazon change how they operate FBAs and FBMs?
Of course. Amazon, like any other business, is free to change its policies and procedures at any time, at its discretion. So be sure to check the linked pages in this article, along with other important information directly from Amazon when starting your FBA or FBM.